For some strange reason, MLS thought it would be a good idea to play a game on July 31st at 5pm (local time) in Frisco (Dallas). It wasn't. With it being 93 degrees Fahrenheit (that's 34 Celsius) pitch-side to start the match, it is no surprise that the first half was rather slow and boring. Both teams were heavily focused on conserving their energy, playing deep and not allowing players to get behind the defense to require defenders to exert extensive energy catching attackers.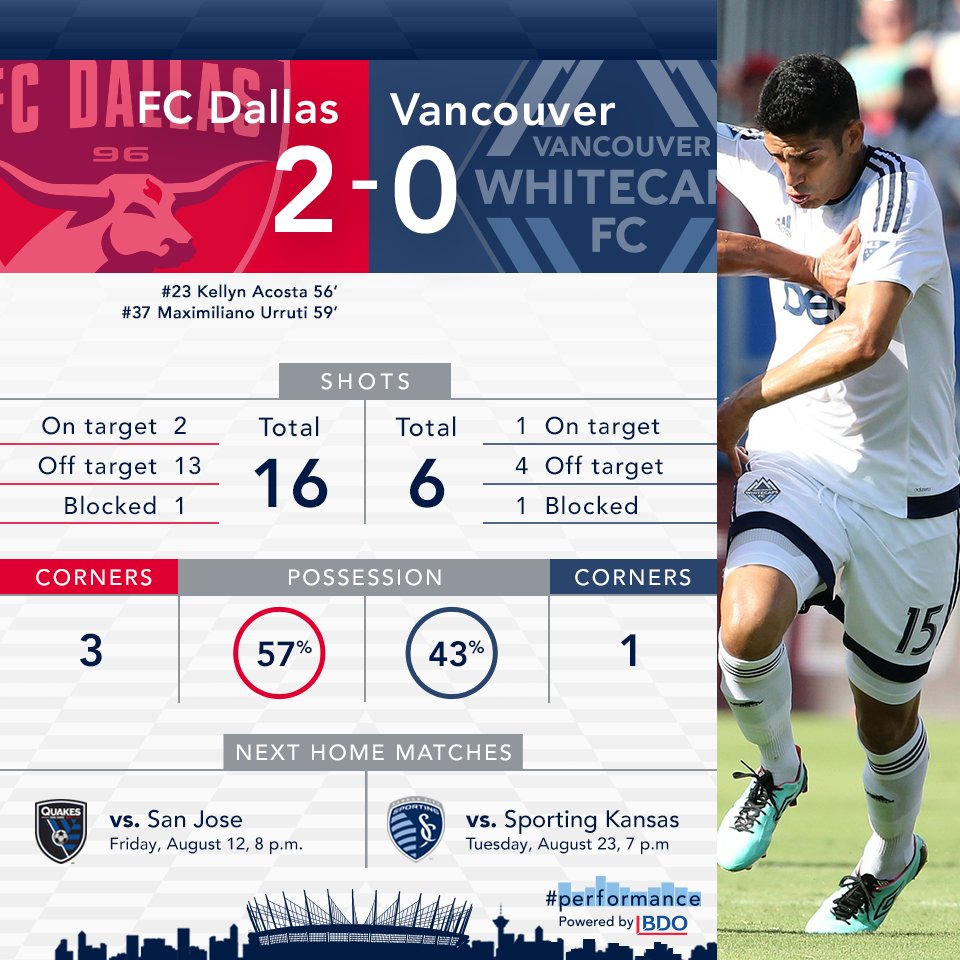 One of the best chances came in the 25th minute with Barrios streaking down the wing and crossing the ball to Urruti, who was sitting around the PK spot. Luckily for the Caps, Urruti skied the ball and the Caps escaped a golden opportunity for FC Dallas. Despite several other similar chances for Dallas, the result continued to be the same as they finished the half with 8 shots but none on target (and none blocked). Would that come back to haunt Dallas? Spoiler alert: No.
The Vancouver Whitecaps were fairly lackluster in the first half. While it is an easy excuse, I think that the heat was certainly a contributing factor. One player who did not seem too impacted by the heat was Bolanos. Possibly the best opportunity for the Caps came in the 43rd minute. Jacobson delivered a great cross-field pass to de Jong who, with a one-touch pass), sent another cross-field ball to the streaking Bolanos who was unable to get a shot or pass across into the box.
Despite the realistic opportunity to leave Dallas with their first-ever point(s), the Whitecaps did not come over very strong to start the second half. Of course, FC Dallas capitalized on the lack of pressure from Vancouver, with Kellen Acosta scoring FC Dallas' first goal in the 56th minute. It will be a goal that Ousted will be displeased that he surrendered, and as a fan I was disappointed as well. However, it is tough to be too hard on Ousted when he makes a mistake as he has bailed the Whitecaps out so many times, he sort of has unlimited free-mistakes.
FC Dallas quickly doubled their advantage three minutes later with a lovely goal from Urruti. Ousted had no chance on this one, and Waston can probably be forgiven as he is not going to catchup to a center forward. However, the Captain Pedro Morales can be faulted a bit on the goal as he was very lackluster in pressure on Atiba Harris, and then did little to get in the way of the ball delivered by Harris to Urruti.
The Vancouver Whitecaps did little to pressure FC Dallas the rest of the match as being down two, combined with the heat, seemed to be quash any change Vancouver had in salvaging a point in this one.

The Whitecaps now move to 0-8-0 in Dallas in their MLS career, while FC Dallas wins their 5th straight at home and 17th without a loss. Thanks to the two FC Dallas goals, the Caps have now given up more goals this season than ALL of last season. YIKES! Part of the squad travels to Trinidad and Tobago, to play their first match in this year's CONCACAF Champions League. After, the team travels to Colorado for another tough challenge. It could be a tough end to July and month of August for the Caps.